World's most expensive houses
1st Place - Antilla in Mumbai, India - Price: 1 billion $
The 173 meters high glass tower has 27 floors and a living area of over 37,000 square meters. The world's most expensive house is the unique creation of Nita and Mukesh Ambani, one of India's leading magnates. "Antilla" also has a six-floor parking lot and nine elevators. Each house floor has the double of a normal height so the building is technically 60 floors high, just tall enough to have its own heliport. "Antilla" house design respects the principles of Vaastu, an Indian tradition similar to Feng Shui and is being catered by a staff of 600 people. "Antilla" will be the most expensive house in the world for a long time.
2nd Place - Villa Leopolda in French Riviera, France – Price: 500 million $
The world's second most expensive house, Villa Leopolda, was built in 1902 by King Leopold II of Belgium.  This expensive house belonged to the Brazilian banker Edmond Safra and still belongs to his wife Lily. Villa Leopolda has 19 bedroom houses, sports fields, bowling alley, multiple kitchens and dining rooms, cinema. Total size of the domain is about 24,000 square meters, with guest houses, several swimming pools and beautiful gardens that require more than 50 full-time workers for maintenance.
3rd Place - The Penthouses at One Hyde Park, London, UK - Price: 200 million $
The world's third most expensive home is on the roof of a building with 82 residential apartments in London's famous One Hyde Park. This home is also the most expensive flat in the world at a price of $33500 per square meter. The residents of this apartment have the highest level of safety; they are guarded by Special Air Service (SAS) (security cameras, bulletproof windows, retina scanning devices and even a secret tunnel to the nearby Mandarin Hotel. For your convenience this flat has also 24 hour room service.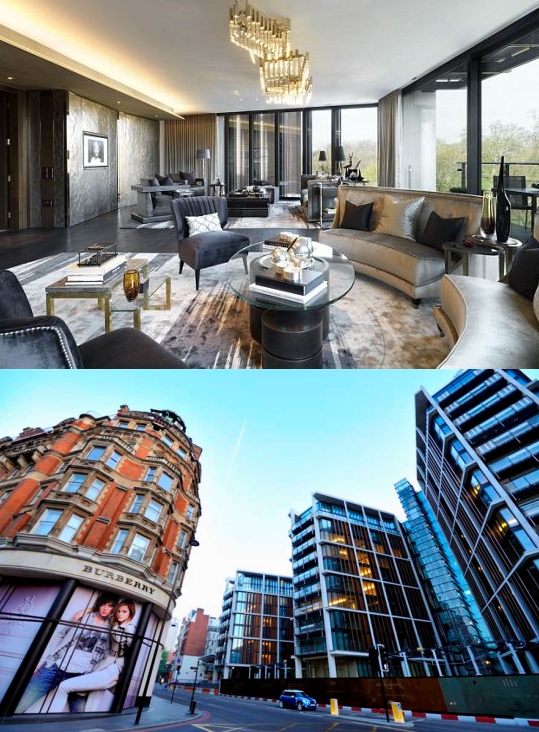 Honorable mention - Fairfield Pond in The Hamptons, SUA – Price: 170 million $
Ira Rennert's house is spread on 25 hectares and it's considered the largest residential complex in all America.
The Billionaire Ira Rennert is the proud owner of the most valuable house in all America with 29 bedrooms, 39 bathrooms, a huge living room, five sports fields, bowling alley and a bathroom tub of $150,000.