The Port-O-Rotary, available now in red, is an original rotary phone that has been specially modified to function like a mobile cell phone. All you have to do is open the phone, insert your SIM card, and turn the unit on which will operate your phone number and account minutes.
What keeps the retro mood alive is that this phone has a dial tone, dials out through the rotary and the incoming calls ring the original, loud, gong style metal bells.
Its best features: the internal cellular module works within any country that has one of the 900MHz, 1800MHz, or 1900MHz cellular bands and the battery can run for 4-5 days and is charged by an external jack on the rear of the phone. The Port-O-Rotary is truly international with up to 15-digit dialing, auto-frequency selection, '+' characters, and PIN # entry for pre-paid cards.
Port-O-Rotary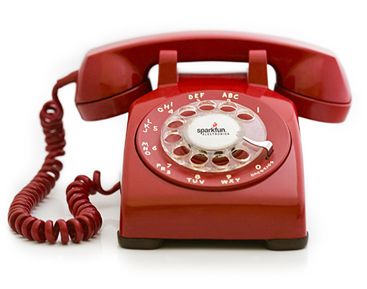 Portable Rotary Phone
Price: $249.95, available at sparkfun electronics.